The

symbol indicates that the book you are interested in is protected by Digital rights management (DRM) in ACSM (Adobe Content Server Management) form. In order to be able to read this book, you must follow the steps outlined in this help article.
Note: this protection is not supported on all devices. Before buying, check that your reading device or operating system is compatible. To find out, check the manufacturer's specifications or do a quick internet search.
1. Install Adobe Digital Edition
Go to this page and click on "Download Digital Edition", Mac or Windows version according to your operating system.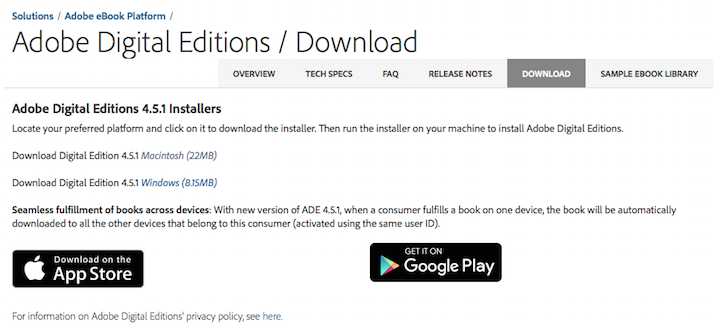 Once the download is complete, follow the software instructions and complete the installation.
2. Creating an Adobe account

To enjoy DRM protected content, you must create an Adobe ID account. To do this, go to this page.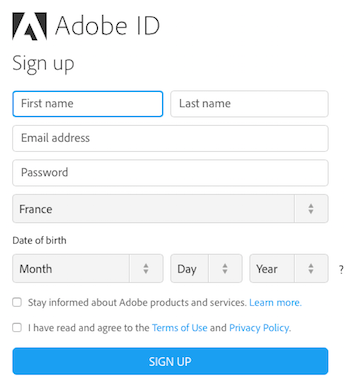 Once you have created your account, you will receive a confirmation email asking you to verify your email address. Click on the link provided to activate your Adobe ID.

3. Launch Adobe Digital Editions

Go to your Library on the protected book that you bought. A file name "URLLINK.acsm" will be downloaded to your normal download location. Double click or right click on this file to launch Adobe Digital Editions (ADE).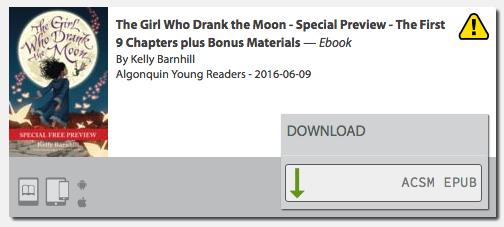 When you first launch the application, you will be asked for your Adobe account user ID and password, in order to authorize your computer to access the books. Fill in your registered Adobe ID email address and password, then click on "Authorize".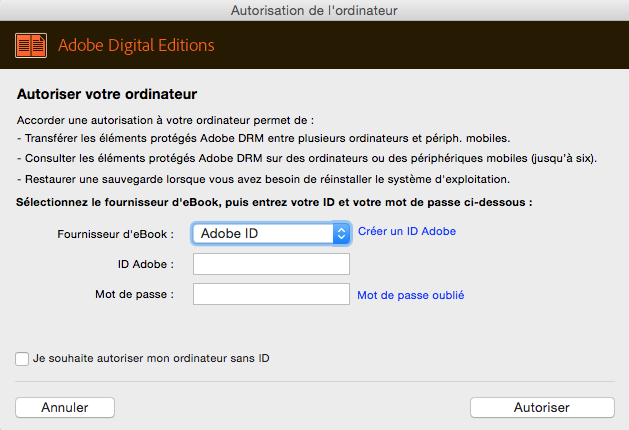 All done! You can start reading your book! Remember: you will need to complete this process on every computer you want to use to read your books.
Nous avons conscience que ces manipulations sont un peu pénibles, cependant, vous ne devriez avoir à les effectuer qu'une seule fois, le plus dur est derrière vous ! Nous nous efforçons de convaincre les éditeurs de préférer le Watermark aux DRM, qui est une protection numérique beaucoup plus légère, voici quelques uns qui le font n'hésitez pas à aller jeter un œil :-)